hi guys! i got some questions concerning how i make my gifs, so i decided to make a tutorial for it!! i use photoshop cs3 [i downloaded a long time ago so i don't have the DL link, i'm 100% sure every photoshop can be used for gifs! :3] and vlc media player will be your best friend!! :O
so, let's start! i'm gifing ep13 of denpa onna to seishun otoko right now, so i'll guide you through my process here! no spoilers, don't worry! o/
open the video on vlc and click the camera button when you get to the scene you want to use. just pause, screencap, pause, screencap, etc, until your scene is complete. time with your own discretion!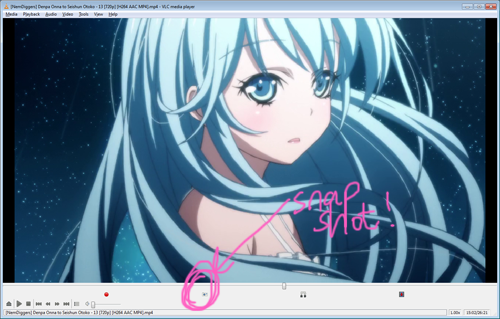 i'm not sure if the setup will look like this when you first download vlc, but if not, you can go to view » customize interface and match yours up to mine (or however you want to use it!) note that i only ever use the camera button, i'm not really sure what the other ones are for and have not used them lollll
once you get all your screencaps into a folder, go to file»scripts»»load files into a stack, then press okay, then okay to upload them into a nice little stack
get your animation timeline up! go to windows»animation to open it. it'll look like this

click the top right arrow, and go to make frames from layers. it'll look like this if you did it correctly:
time to time the frames!! i select all and put in ".15" and i adjust the timing if necessary. you can do whatever time you want, though o/
time to crop and resize your otherwise huge gif! :) make sure the width is always 500px! i'm not sure the maximum of height, but try not to make it too big or tumblr will resize it :-/
it's time to save the gif to be uploaded onto tumblr!! go to file»save for web & devices, then match my settings (or change them, whatever) make sure your gif is less than 1mb!!!!!! (mine is 500K for this particular gif)
upload, and voila, a gif!
(OPTIONAL) time to color it!! i use brightness and contrast along with color balance to spruce my gifs up :) i don't use .psds for gifs, so alter your coloring until you like it!! my watermark (which i don't do anymore haha) settings look like this:
here is my final gif! i'll post the unwatermarked final version soon!!!
gosh erio is so fun to color!!! and that's all there is to it!!! send me an ask for any questions - i probably left out some stuff since i can probably make gifs with my eyes closed oops. good luck and happy gifing! :)